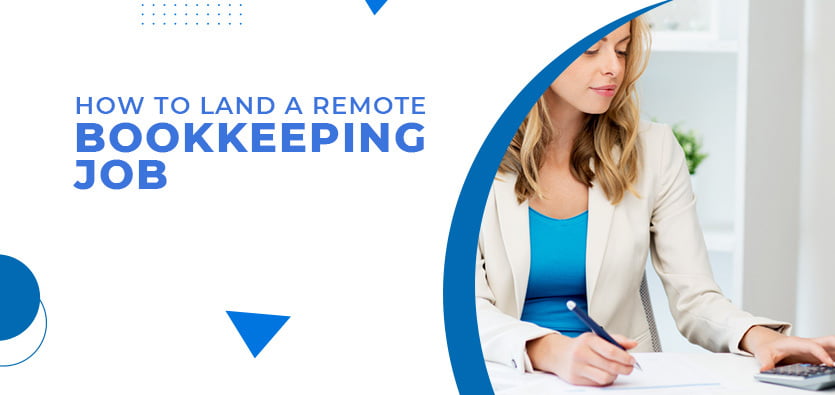 Technology has enhanced and simplified the way we operate our businesses. With the advent of applications such as Skype, Zoom, Google Meet, and others, we can successfully run our businesses from the comfort of our homes. Moreover, technology has helped us communicate online with our teams located all over the world. It has also helped us manage our businesses operations and business finances remotely.
Managing a business online includes keeping track of your services, workforce, business strategies, and most importantly, the amount of money going in and out of your company's bank account, and this is where virtual bookkeeping comes in.
What Is A Virtual Bookkeeper?
A bookkeeper's job is to oversee a company's finances and accurately maintain records on accounts payable, receivable, payroll, and other daily and monthly financial reports. A virtual bookkeeper is someone who works remotely and utilizes current technologies to complete tasks such as tax compliance, financial reporting, expense coding, and more.
If someone's running a business online or working remotely, they will require a virtual bookkeeper to manage their finances efficiently.
When it comes to remote bookkeeping jobs, there are many opportunities in the field. So, if you're good with numbers and accounting and have good communication skills, then a remote bookkeeping job may be for you. Here is how you can land a virtual bookkeeping job.
Know What A Bookkeeper Does
The job roles of a bookkeeper and an accountant are often used interchangeably. However, there is a slight difference between the two. A bookkeeper's role is to record his client's daily financial transactions and activities. In contrast, an accountant's job is to classify, analyze, interpret, report, and summarize a company's or an individual's financial data.
Some of the specific duties of a bookkeeper include:
Recording and creating financial reports
Updating and reviewing financial records
Editing and writing budgets for the company
Emailing invoice copies to clients
Monitoring accounts payable and receivable
Managing payroll accounts
Protecting clients by ensuring their financial transactions are complying with state's laws
Informing clients of any financial discrepancies.
Bookkeepers can work for individual clients or companies. Unlike bookkeepers who work in the office, remote bookkeepers can work from home or some other location of their choice with a Wi-Fi Connection. Moreover, bookkeepers may be salaried or self-employed.
Ensure You Have Good Bookkeeping Skills
To become a successful virtual bookkeeper, you need to have some essential qualifications as an on-site bookkeeper. Besides these qualifications, you should also possess some basic skills to land a high-paying remote bookkeeper job.
According to the various employers posting bookkeeping jobs on Worktually, people who are good with numbers and have the essential knowledge about operating computer programs like Excel, QuickBooks, Xero, and other accounting software can do well as remote bookkeepers.
In addition to these, remote bookkeepers should also have the following skills to help them succeed in their bookkeeping careers:
Organizational skills
Attention to detail
Communication skills
Tech-savviness
Time management skills
Essential accounting knowledge and skills
Hone your bookkeeping skills by getting certification and taking online courses and training that can teach you essential aspects of the field.
Find Clients For Your Remote Bookkeeping Career
Lastly, if you're interested in becoming a remote bookkeeper, you can look for part-time or full-time jobs on websites like Worktually that regularly post bookkeeping jobs.
To present yourself as a qualified candidate, create your job profile on the portal of these websites. Make sure your profile highlights your bookkeeping skills, experiences, and qualifications.
You can also opt to create a well-written resume and cover letter highlighting your skills and experience and directly submit them to the hiring employer. Make sure to read the job description first before tailoring your resume according to the job position.
About Worktually
Worktually is a remote recruiter that helps employers connect with professional and expert remote bookkeepers. For more information about our remote hiring process, visit our website or contact us here today.