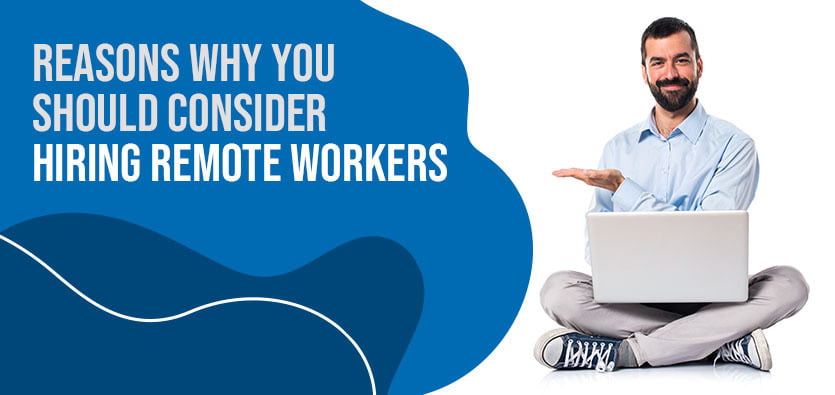 Hiring remote workers is ideal in certain situations but beneficial to a considerable extent, irrespective of the scenario. Whatever the reason is, if you decide to hire remote workers, you will never regret the decision. Remote workers offer a wide range of benefits that make this decision a timeless and universal way to increase a business's efficiency.
When Space Is An Issue
The direct and most obvious advantage of hiring remote workers for an employer is the space. The employer does not need any space to accommodate remote employees. Whenever a business is running out of space, and there is a need to hire more people, appointing remote workers will be the perfect solution.
Real estate prices are on the rise, and it is not feasible to extend the office space every time additional staff is needed. The most affordable way to solve this problem is to hire virtual employees who work from their homes without requiring the employer to provide physical space.
When Distance Is A Hurdle
Sometimes an employer shortlists a suitable candidate, but the distance becomes a hurdle between the employer and the candidate. This is one situation in which hiring the candidate as a remote worker would be ideal. The remote employees will be happy to work for their employer.
The reason being that the employer is giving them the option to work from home and earn the same amount they would have made if they worked from the office. When the distance is removed, employees have no problem working to their full potential and delivering their best.
Foreign Staff Is A Requirement
Many businesses in the world require foreign staff members to meet their expectations and business requirements. One example of this is customer support centers. These businesses need employees of specific ethnicities. For such companies, hiring remote workers is the best option.
Cultural Diversity Is In Demand
If cultural diversity both from within the country and worldwide is in demand, remote workers can help. It is not feasible for businesses to hire employees from various cultures and accommodate them in an office.
People from different regions of a country have varying talents and specialties. If a business needs a diversified set of skills, hiring remote workers is the easiest and most feasible option. Not only will the employer but the employees receive benefits from this mode of employment.
Flexible Work Times
There might be situations where the employer needs workers to work flexibly to carry out unique and specialized tasks. If these employees come and go from the office at unusual times, the other 9 to 5 employees will not feel comfortable. It might harm their job.
Keeping these employees separate and letting them work from home is a better choice to prevent other employees from thinking negatively.
Round The Clock Business
Another situation in which remote work plays an important role is when the business runs round the clock. Running a physical office round the clock is costly and not always feasible. In these cases, hiring remote workers for night shifts is a wise thing to do.
You can run the office during the day and hire night shift employees to work from home. It keeps the business running round the clock and distributes the workload on your office's resources.
Worktually offers the most advanced and innovative opportunities for a wide range of occupations for you to exhibit your skills and make a professional career with us. If you want to explore your abilities and polish your skills while staying at home, click here.